Standout Athletes of Yorktown High School
The Big Arlington Rivalry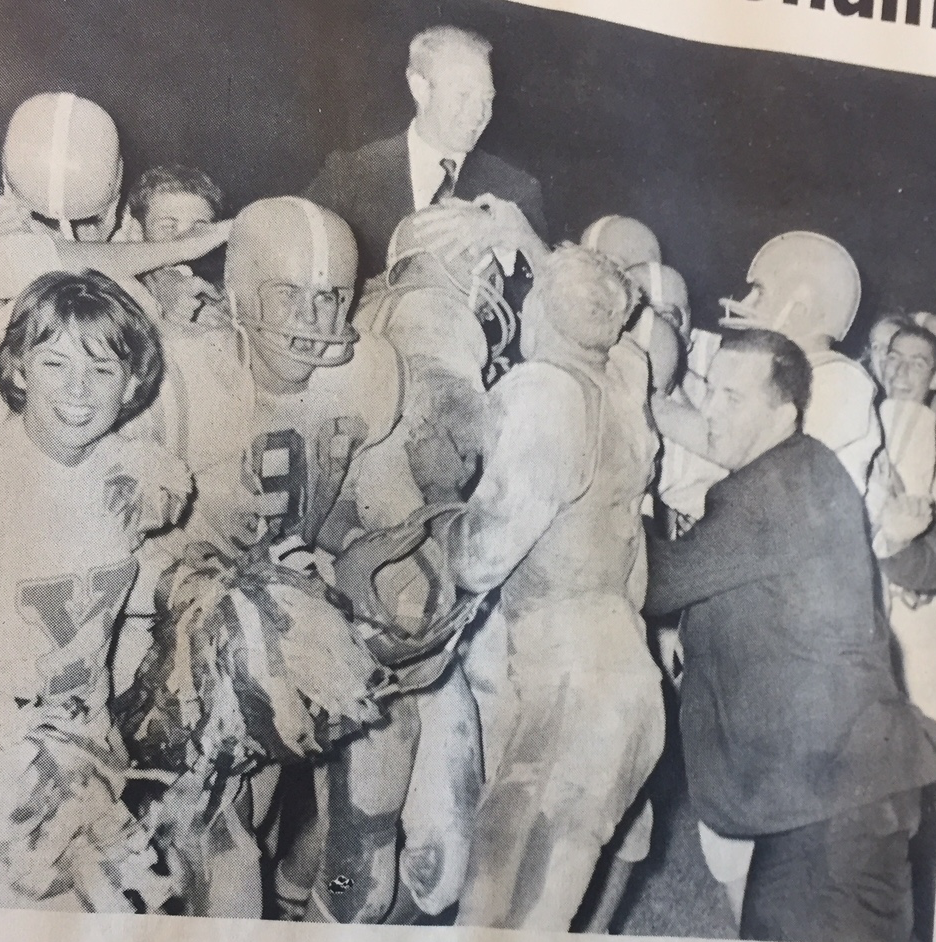 Arlington County's big cross-town high school football rivalry started when Yorktown, only two years old and in its first year with a senior class, beat defending state champion Washington-Lee on Oct. 6, 1961. The Patriots pulled off the surprise 6-0 upset under Coach Jesse Meeks (left) and went undefeated until losing in the state finals. Yorktown's defense blocked three W-L punts, including one in the third quarter by Marty Taylor that Patriot John Keiter recovered and ran for the game's only score.
       The rivalry sharpened in the 1967, when the Patriots, competing against future Pittsburg Steelers running back Reggie Harrison, walloped the 2-2 Generals 35-6 to win the district championship. Senior captain and quarterback Bill Carter combined with junior wide receiver Bernie Kirchner to set records while beating W-L for the fourth year in a row.
        W-L got its revenge in November 1970. Yorktown was undefeated at 9-0 and W-L at 7-2 when they clashed in the mud at War Memorial Stadium packed with 10,000 spectators. The night was misty – rain had poured for several days. That slowed the Patriots' scampering running backs like Harvey Banks and Franco Neighbors--it may be why W-L won 12-0. That outcome gave W-L the district title and a trip to the regionals (a feat the Generals repeated in 2013 when they beat the Patriots, then-undefeated in district play, and won the district title for the first time in 38 years).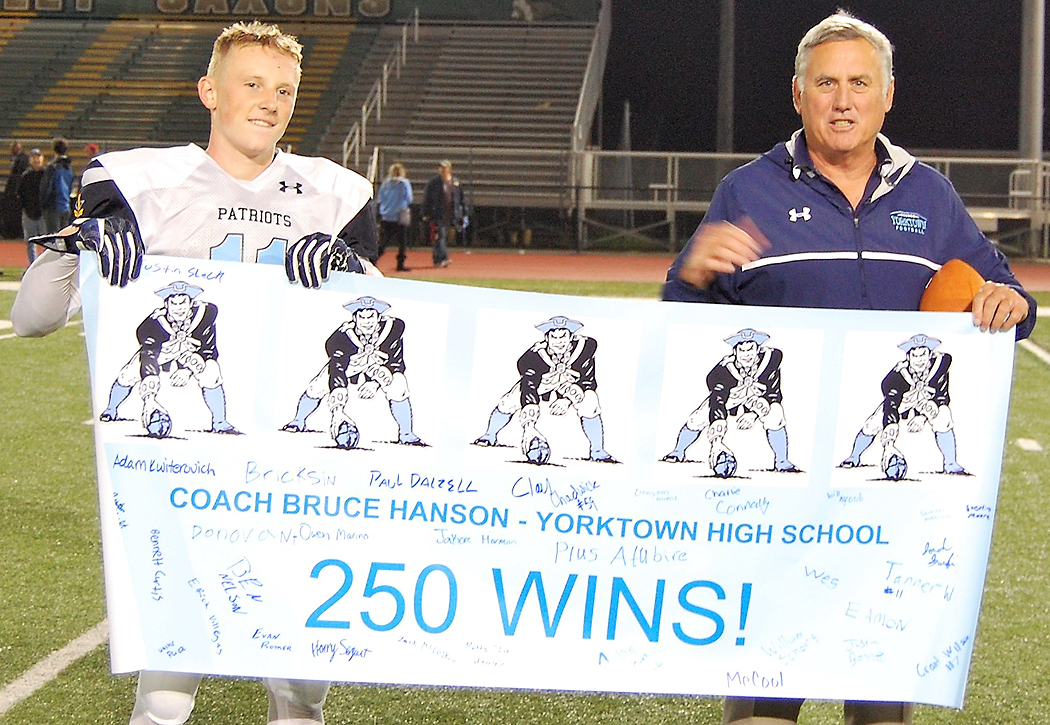 During long-standing football coach Bruce Hanson's first year in 1985, Yorktown upset W-L, launching a three-decade streak in which Yorktown won all but three of the annual big games. In 2011, with running back M.J. Stewart and the best record in school history (12-1), the Patriots defeated the Generals 55-33.
    Against W-L the Patriots usually win "handily," Hanson (right, Sun-Gazette photo) said in 2017. "Only in the past few years has it even been close." Though the rivalry persists among all sports for boys and girls, the annual football tradition still reverberates.
---
John Yelverton '64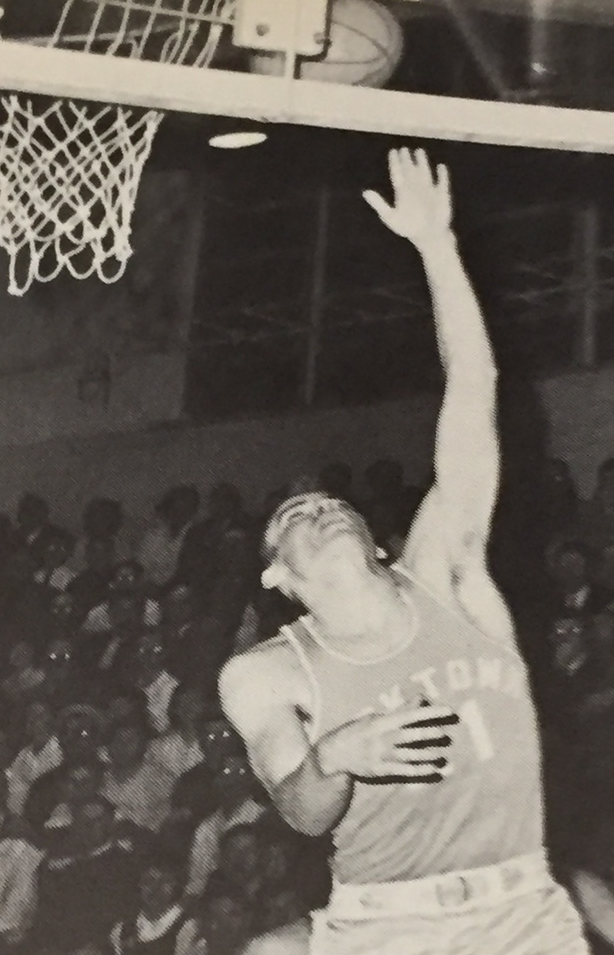 The first marquee star at a young Yorktown High School, Yelverton led the team in his junior year with an astonishing 17 point average per game (accomplished in the era before the three-point shot was introduced for the 1987-88 season). Battling such foes as W-L's future Princeton University star player Ed Hummer, Yelverton poured in shots that were often half the team's total. He made second team All-Metropolitan as a junior and followed with a 16.5 average senior year. Having also made his mark on the baseball diamond, Yelverton was recruited by famed Coach Dean Smith of the University of North Carolina.
---
State Champion Wrestlers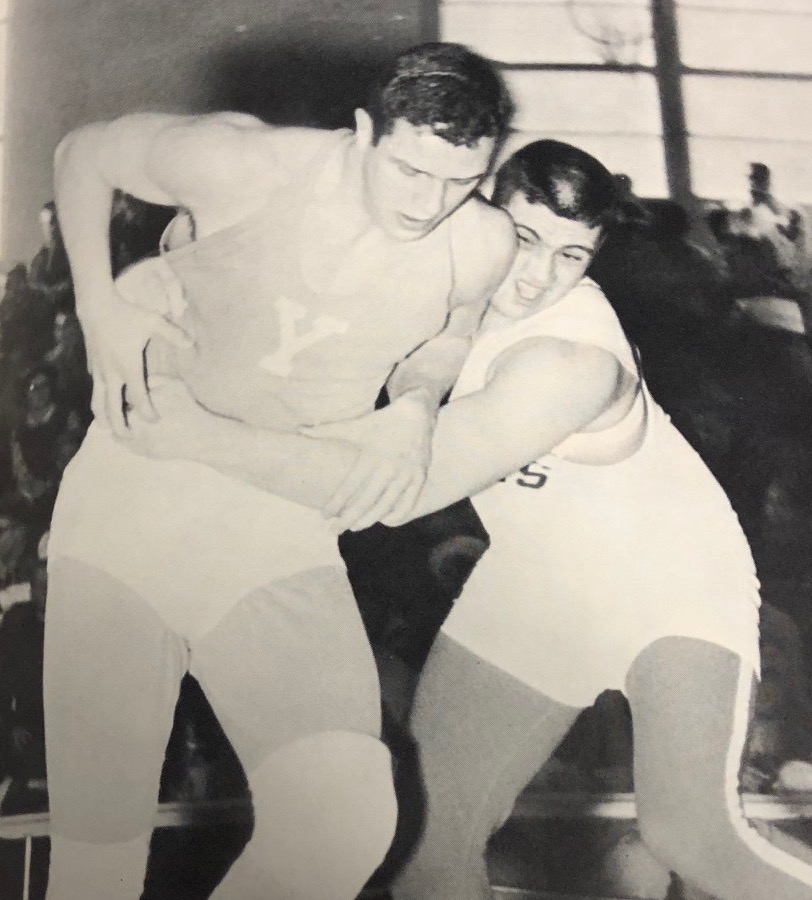 Wayne Binsted, '65 (shown left), during his junior year under Coach Chuck Harris became Yorktown's first all-state athlete, in wrestling. (He also captained the football team as a senior.) A heavyweight, Binsted recalled a brutal grapplers' rivalry with Falls Church High School's Bill McClain, whom he beat 1-0 in overtime. Both went on to wrestle and play football at Appalachian State University and became friends.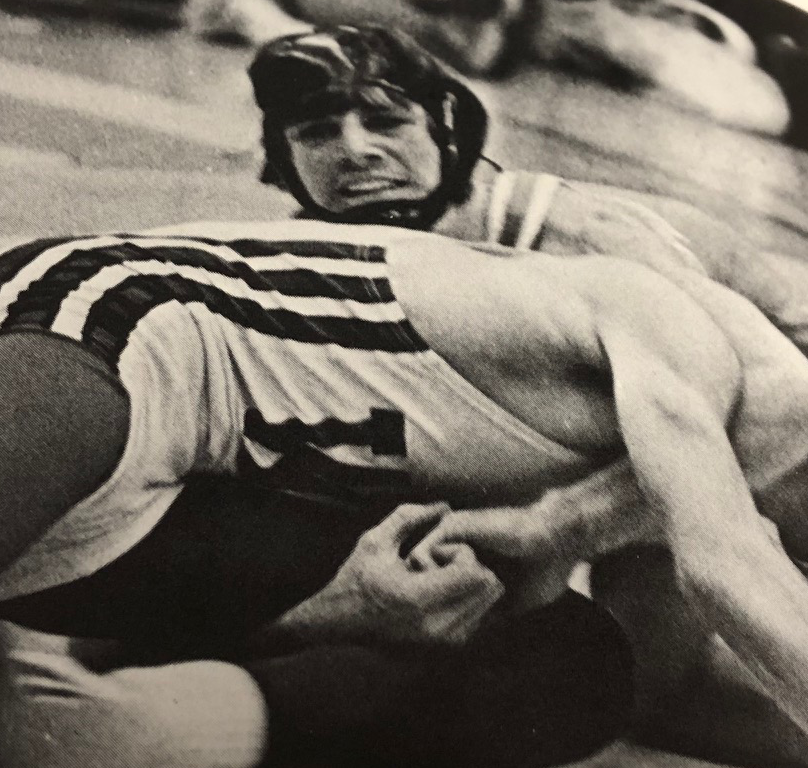 Other YHS state wrestling champs include Ken Mahon '72 (185 pound class); Joey Whitehouse '74 (132 pounds); Gary Pinkett '74 (heavyweight); Mike O'Dea '83 (185 pound class); Aaron Green '85 (112 pounds); and Charles Schollaert '90 (160 pounds). Whitehouse (shown right), whose undefeated '73-'74 team had two state champions, took the Virginia title after a tournament in which not a single point was scored against him. He went on to wrestle at North Carolina State University.
---
Gymnastics Team's Winning Decade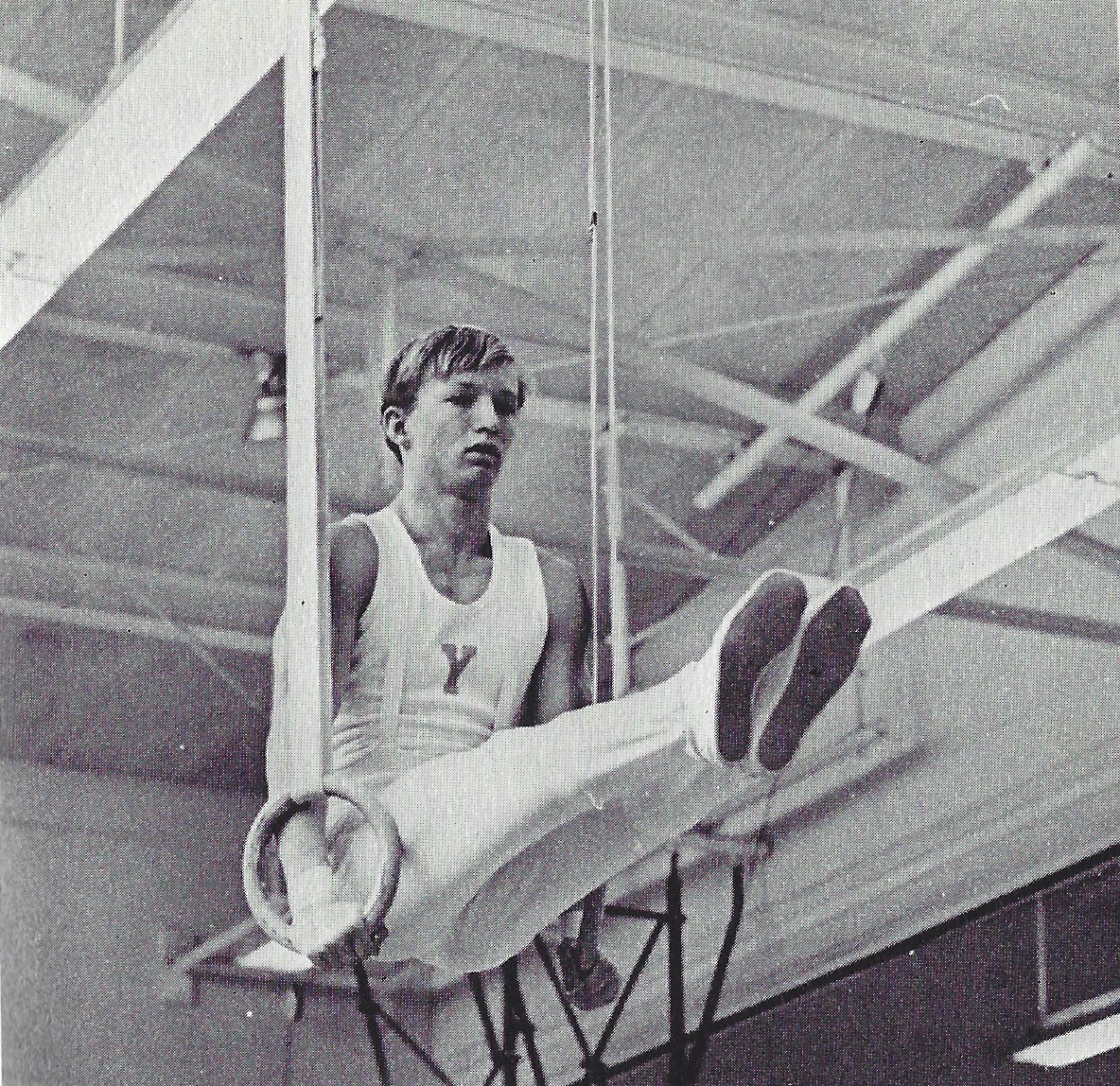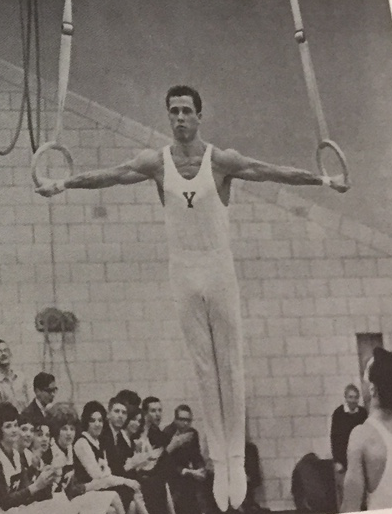 Under their first coach, Jesse Meeks, Yorktown's steady stream of athletes on the rings (Lee Weisner, right), bars, floor mats and sidehorses took the state title no fewer than eight times in its first dozen years: the classes of 1963, 1964, 1965, 1967, 1968, 1970, 1972 and 1973. In 1975, it was the girls team's turn to win state (Barb Cherney, shown below).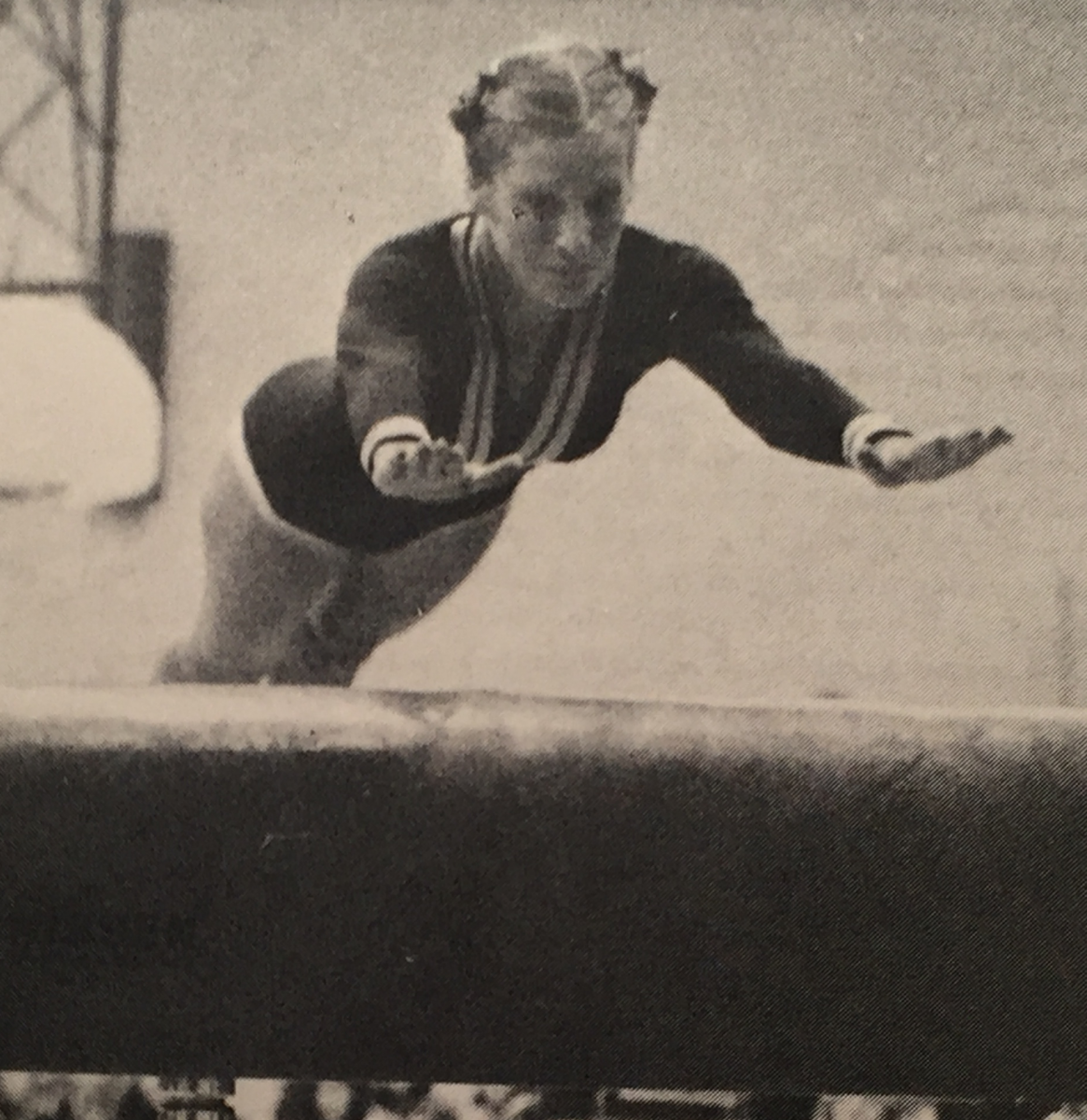 Muscle-bound gymnasts such as Randy Stark '63, Gary Woffinden '65, Stewart Weisner '67 and Larry Jozwik '71 (left) traveled to Charlottesville and sometimes beat freshman competitors at the University of Virginia.
---
David Billy '66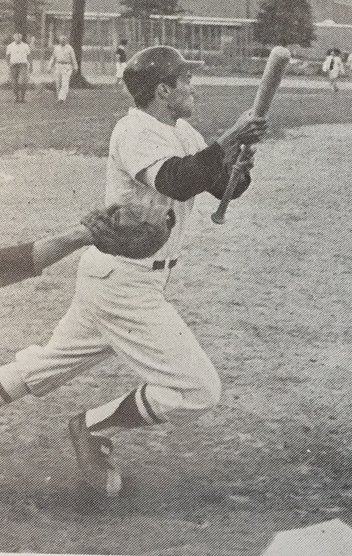 A rare combination of strength and coordination, Billy was a star halfback on the football team as well as an ace pitcher on the baseball diamond. He threw back-to-back one-hitters his junior year, and as a senior, he pitched a perfect game against McLean High School. He and teammates Gary Kirkbride and Don Lichty were instrumental in hitting against future Major League pitcher Clay Kirby of Washington-Lee. Billy played football for the University of Wisconsin.
---
Bill Carter '69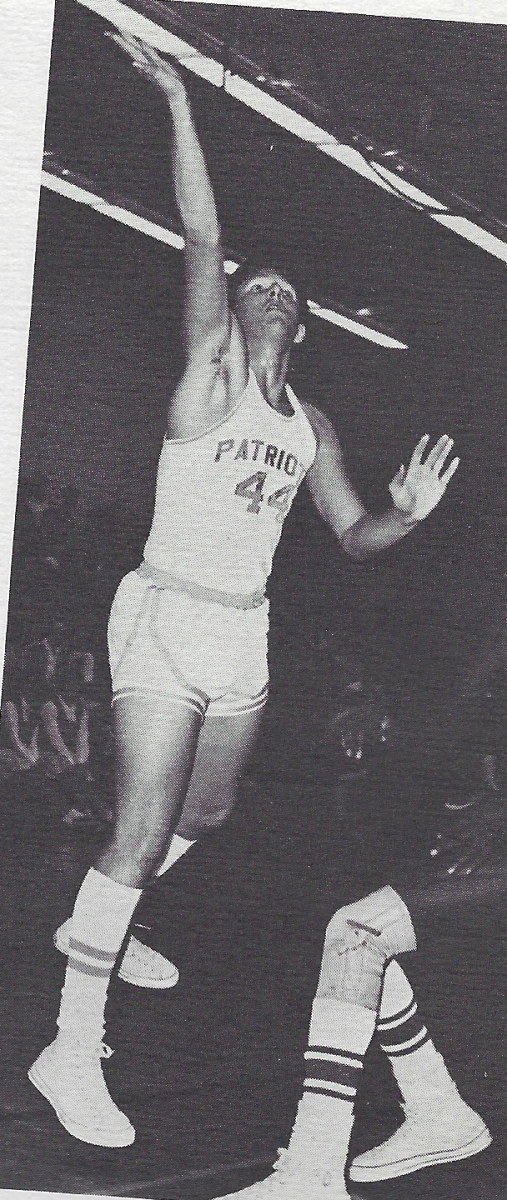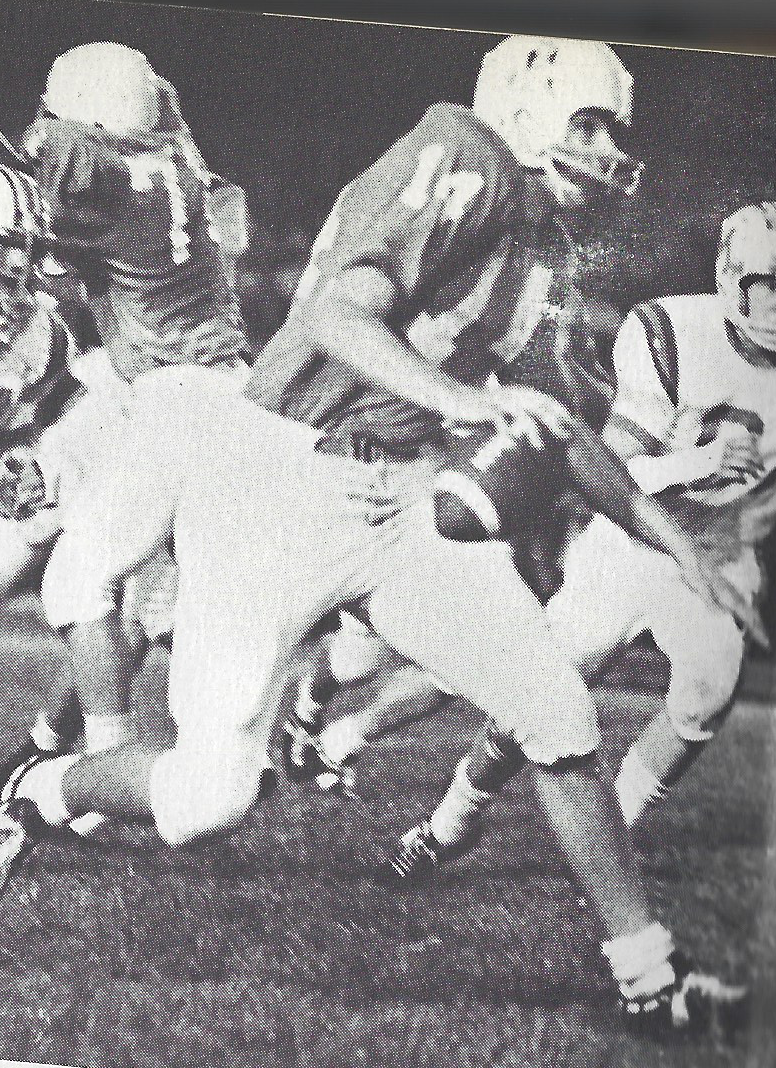 One of Yorktown's first three-sport athletes and athlete of the year, Carter was "the best quarterback I ever had," said Coach Jesse Meeks. In the last football game of his senior year---against W-L—Carter completed 13 passes in a row, going 17 for 18 in the first half and 21 for 28 for the game, with five touchdowns. In basketball against George Washington, the game was tied with one second to play when Carter famously intercepted an inbound pass and sank the winning layup. In baseball, as a sophomore, he pitched a no-hitter against W-L. During senior year he was an all-district pitcher who hit .348 with two home runs, including a grand slam that powered the Patriots to a 9-3 victory over George Washington.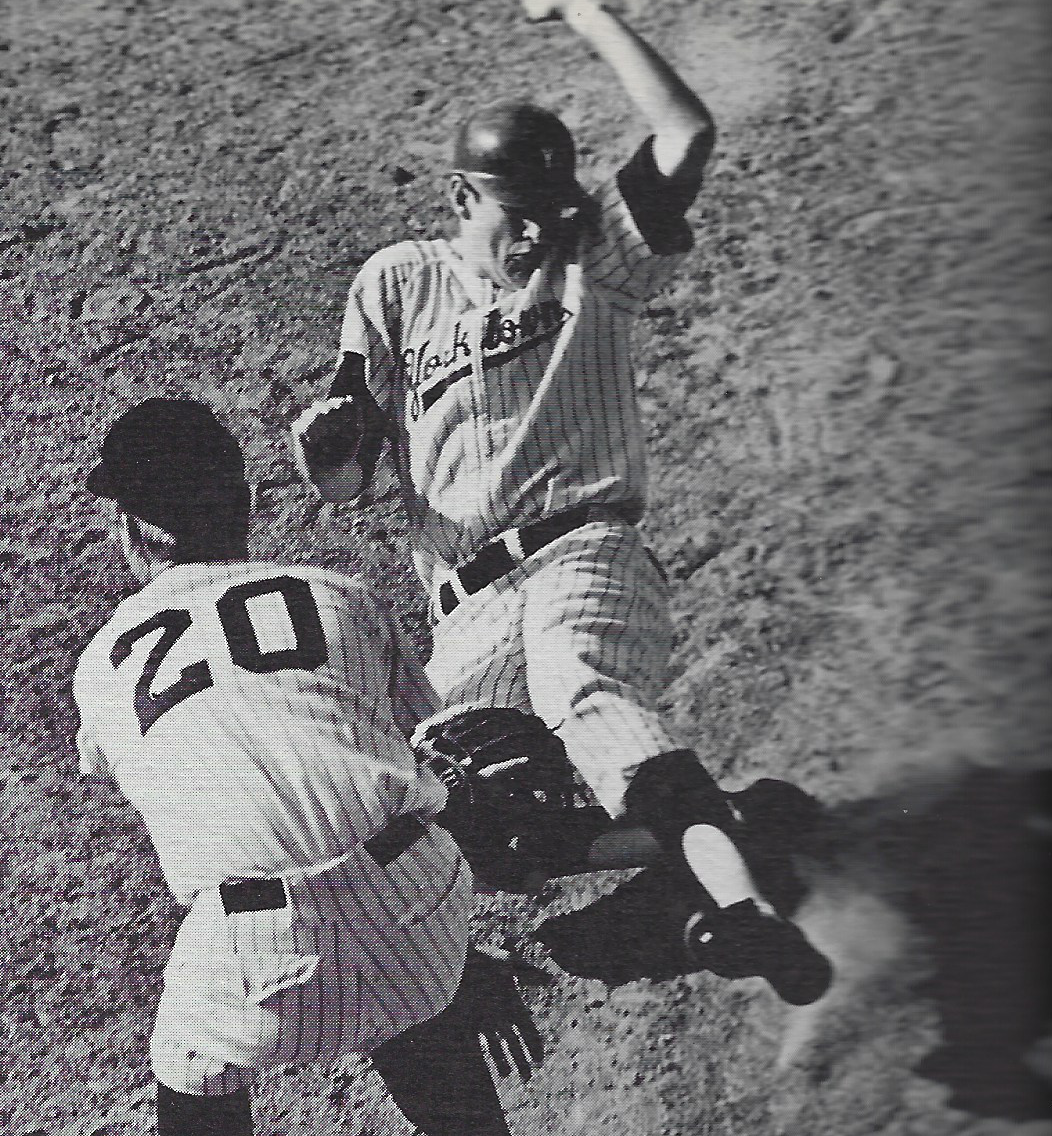 A rare three-sport captain, Carter played football at the University of Cincinnati.
---
Bernie Kirchner '70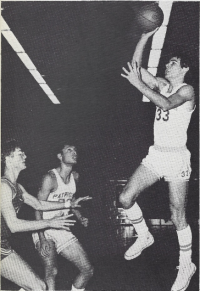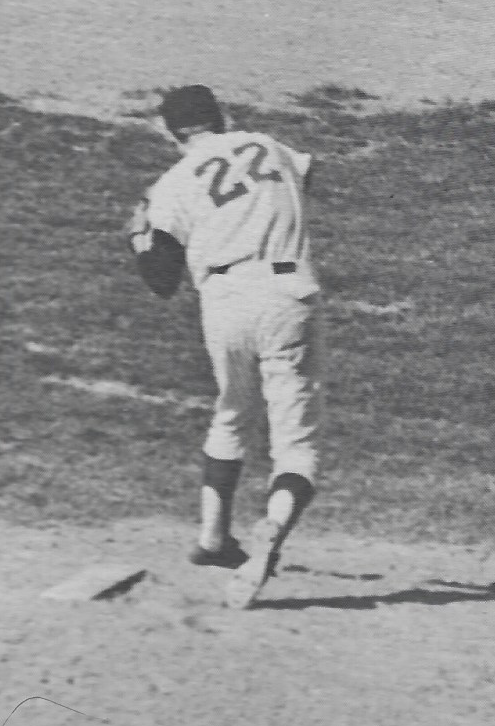 Considered by many to be Yorktown's best all-around athlete, Kirchner played varsity in three sports for eight of nine seasons in his three years (he was on J.V. only for football). He set 14 records, including the football mark for punting, receiving and scoring. As a junior, he was famous with senior quarterback Bill Carter for the passing combination of "Carter to Kirchner." The Washington Post named Kirchner All-Metropolitan as a junior, the year he caught 15 touchdown passes and scored 91 points. He was also named all-Metropolitan as a senior.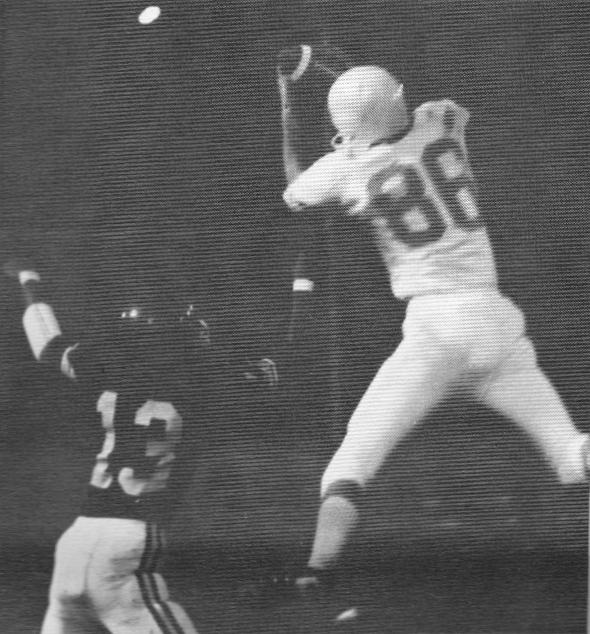 In basketball, Kirchner was the first in school history to score 1,000 points, averaging in his junior year a school-record 25.9 points per game. Senior year, he combined with Don Bevill to average 38 points, giving Kirchner a Yorktown career average of 20.9, which remains the Yorktown record. In baseball, Kirchner pitched and maintained the team's best batting average, making him a shoo-in for Yorktown's athlete of the year. He went on to play the same three sports at West Virginia University.
---
Harvey Banks '71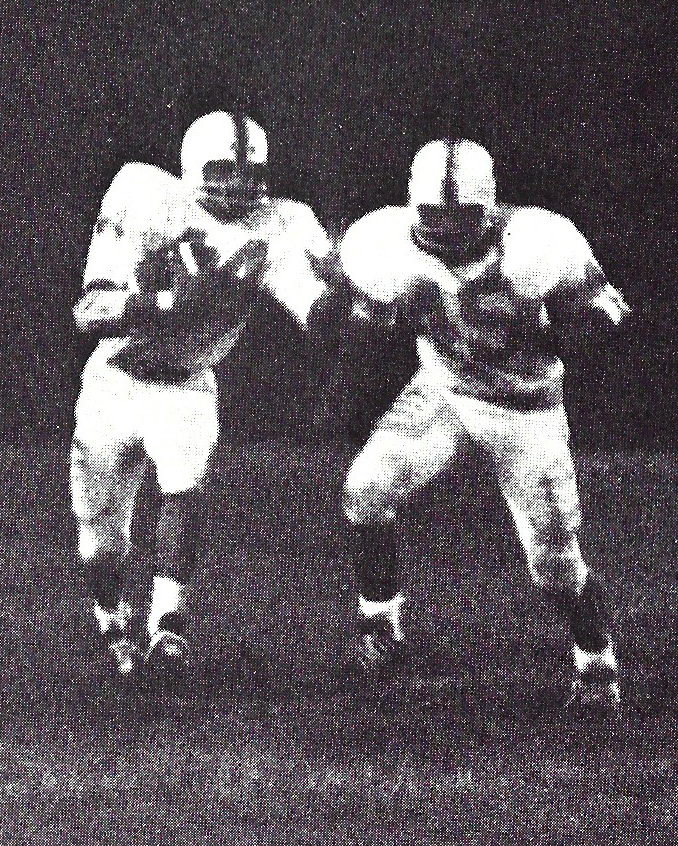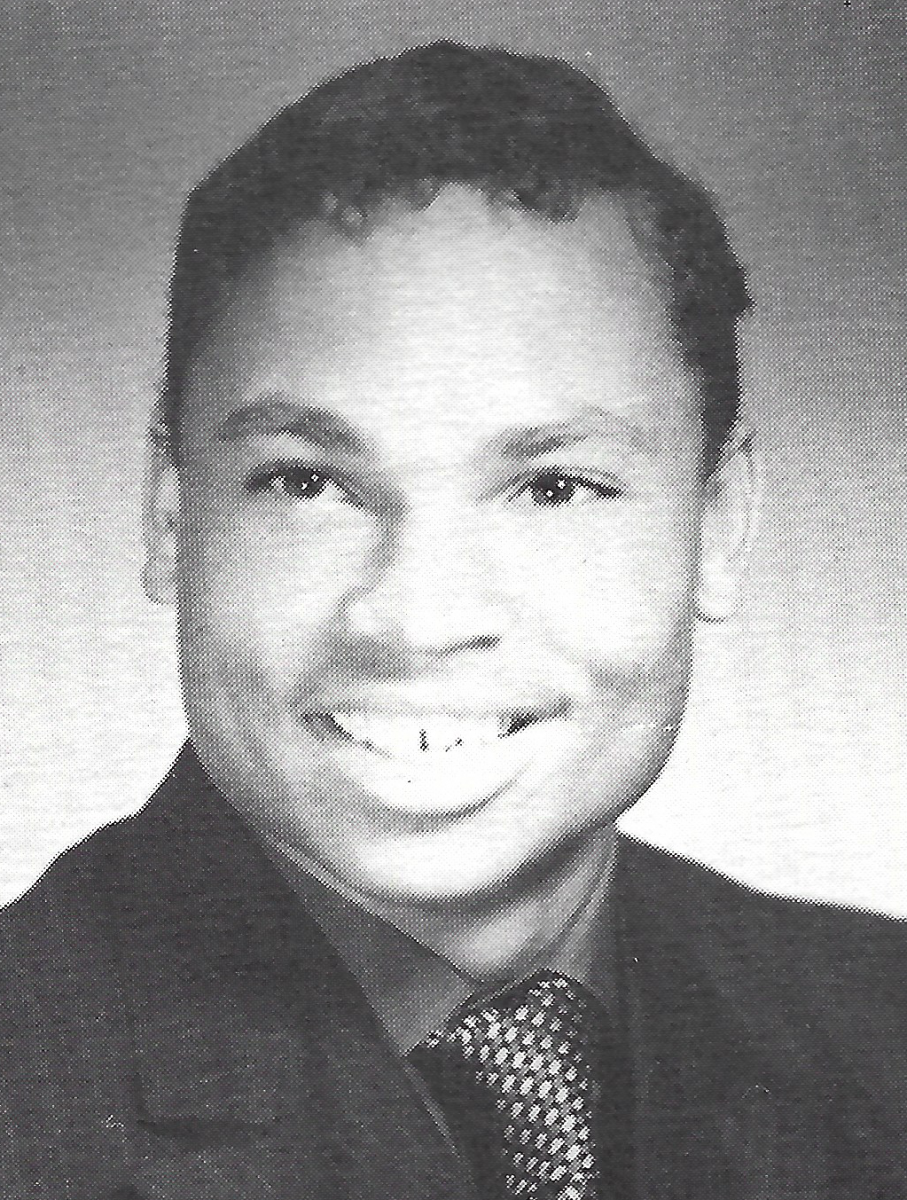 As the speedy running back for the Patriots' 9-1 football team in the fall of 1970, Banks blossomed as a breakaway artist his senior year. He "lived up to his notices," the Washington Post wrote after he scored 206 yards in the opening 12-7 victory over West Springfield, following runs of 51 and 77 yards. Before a crowd of 3,000, the five-foot-seven, 160-pound speedster scampered 79 yards for a touchdown right after the opening kickoff in Yorktown's 20-14 victory over Hammond. Banks executed a 65-yard dash for his second touchdown of the game in the 39-6 victory over Wakefield.
   Banks played football at Texas Christian University, Howard University and as a semi-pro for the Virginia Chargers. He spent 31 years on staff as Yorktown's resource and security officer.
---
Griff Lampkin '72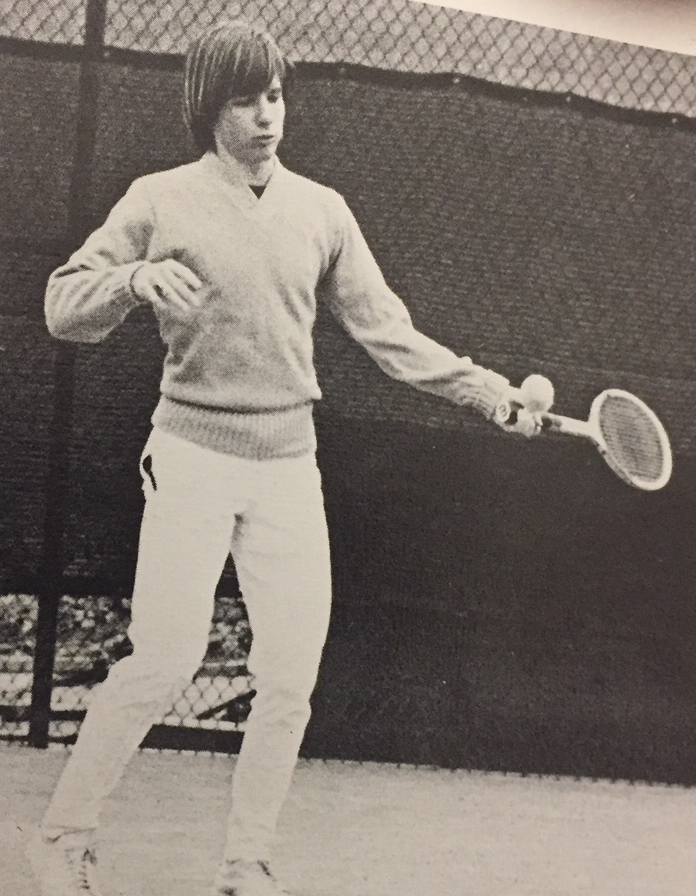 Tennis star Lampkin stood out as the Patriots won the state title in 1972. He and Gordon Jones won the individual state doubles title. As a junior, he was ranked No. 1 on the Yorktown team, and shared the regional doubles championship with classmate Kim Dillard. Lampkin played tennis for four years at the University of South Florida.
---
Mike Brown '76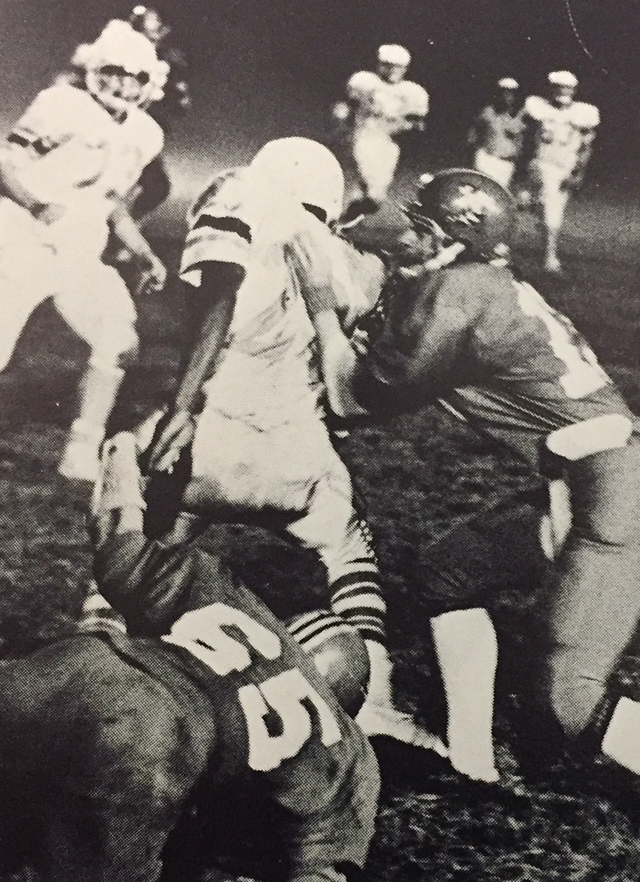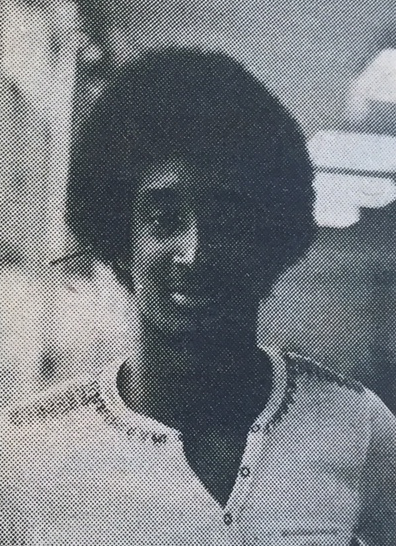 A wide receiver for Yorktown's football team, Brown in his senior year caught 58 passes for 852 yards in 10 games. He broke Bernie Kirchner's 1968 receiving record and was named all-Metropolitan two years in a row.  A basketball starter and co-winner of YHS athlete of the year, he received an athletic scholarship from Howard University.
---
Sue Sale '76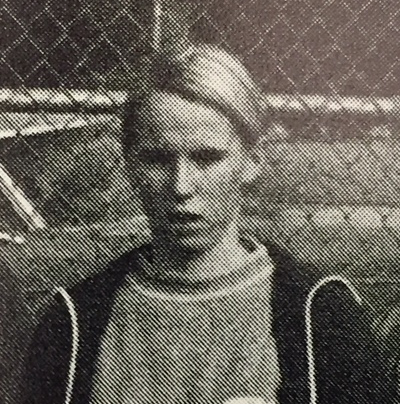 Perhaps Yorktown's first star individual female athlete, Sale stood out as a junior during the 1975 season, the first year of girls' softball. As co-captain she hit .600, and as captain senior year again hit .600 and led the team in steals. Sale was named female athlete of the year.
---
John Rusevlyn '82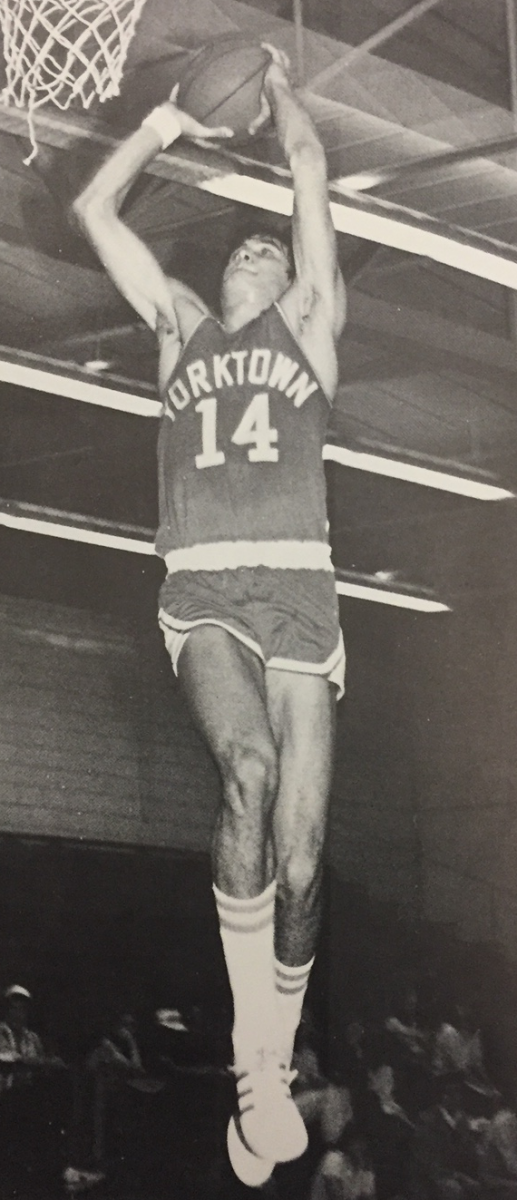 As a hoopster over his junior and senior year seasons, Rusevlyn scored 701 points, averaging 14.9. Coach Jim Price called him "the most versatile player I ever had. He was like a coach on the court."
---
Terrance Knuckles '88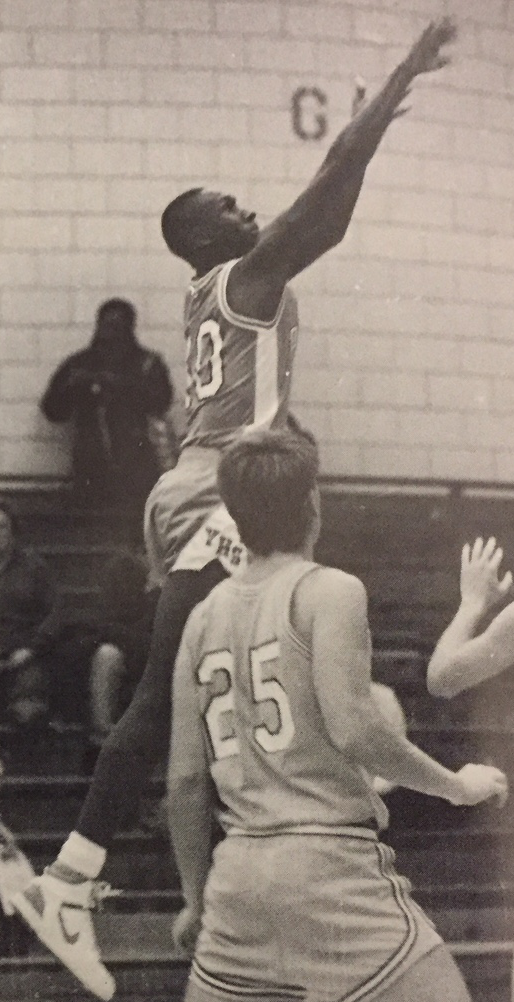 Paired on the basketball court with center Daryl Armstrong, Knuckles scored 933 points over three years, averaging 13.5 points per game. He starred in basketball at High Point University.
---
Daryl Armstrong '89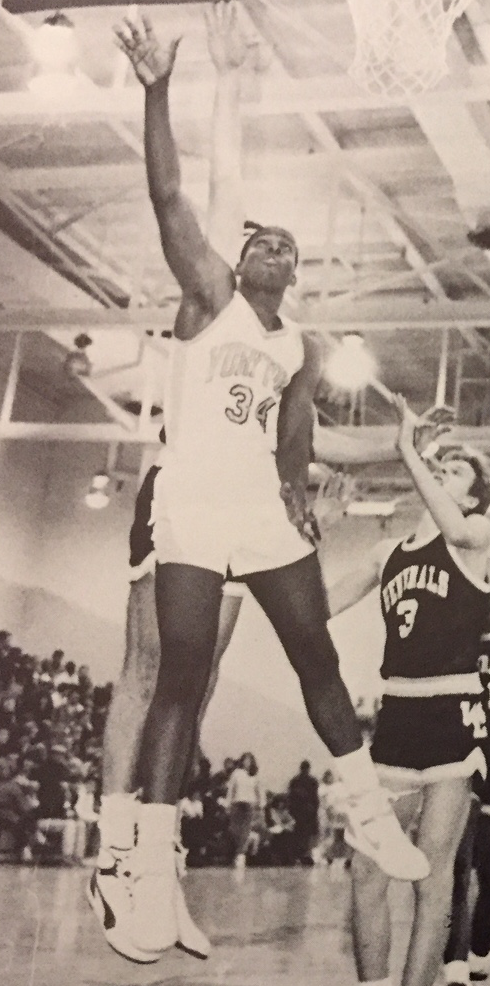 This six-foot-three-inch center set a basketball record of 1,114 points over three years, averaging 16.1 points per game. "He could always be counted on to score at least 20 points," Coach Price said. Armstrong made All Northern Virginia and all Potomac District before playing basketball at High Point University.
---
Dawn Bushnaq '90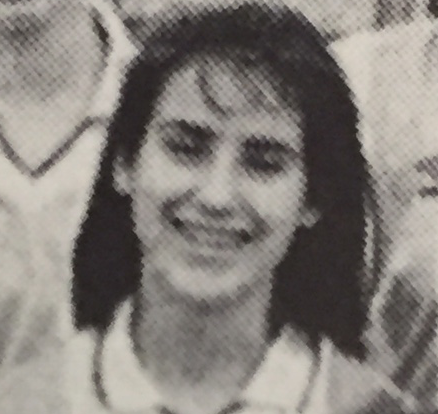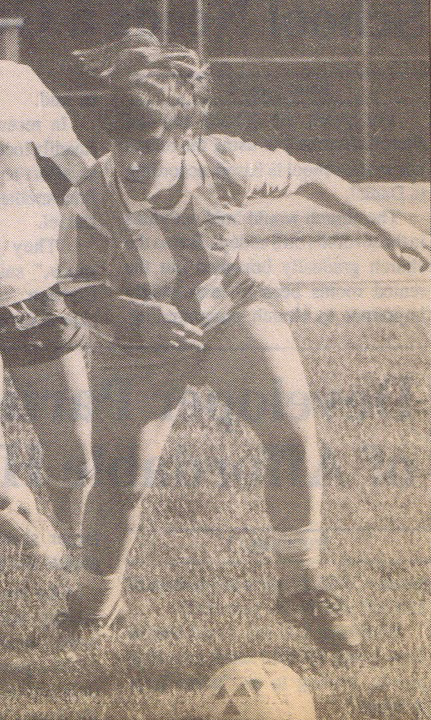 Girls soccer star Dawn Bushnaq was a Washington Post All-Metropolitan choice in 1988, 1989 and 1990. In her breakout junior year, she was the Potomac District's leading scorer, with 17 goals and 11 assists. She received all-South regional honors and all-state honors. "Everything came together my junior year—our team, chemistry, my fitness," she recalled, crediting a "demanding" Coach Jean-Pierre Bell for championing girls' soccer. She went on to star in soccer at Yale University. (Photo by Northern Virginia Sun)
---
Andre Yates '90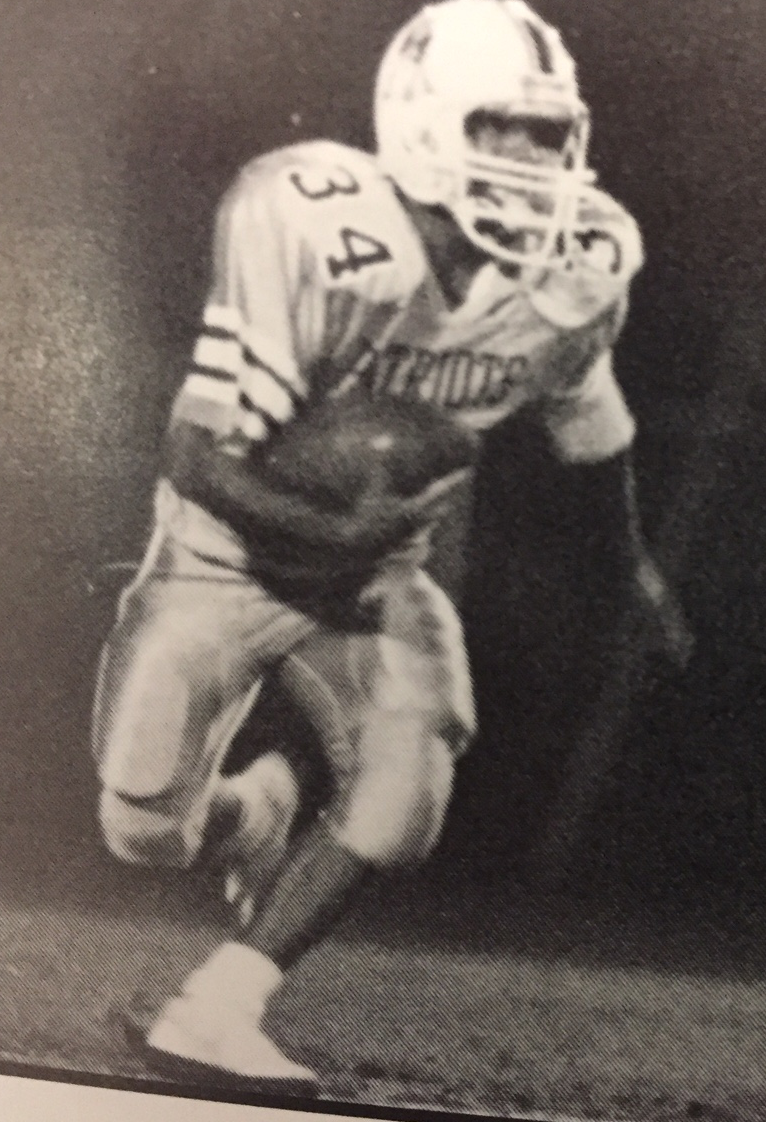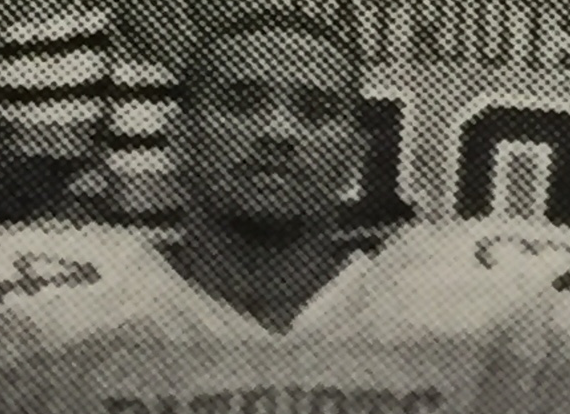 A speedy but tiny running back (five foot, five inches and 155 pounds), Yates broke the school and state rushing records as a senior, hitting 2,045 yards in 11 games, He exceeded 200 yards in seven of those games as senior and scored 23 touchdowns, averaging a first down nearly every carry. He won district, region, all-Metropolitan and all-state honors. In his junior year, he rushed for 755 yards in 122 carries. As a sophomore, he played varsity in the semi-final state game.
---
Ann Huybrechts '91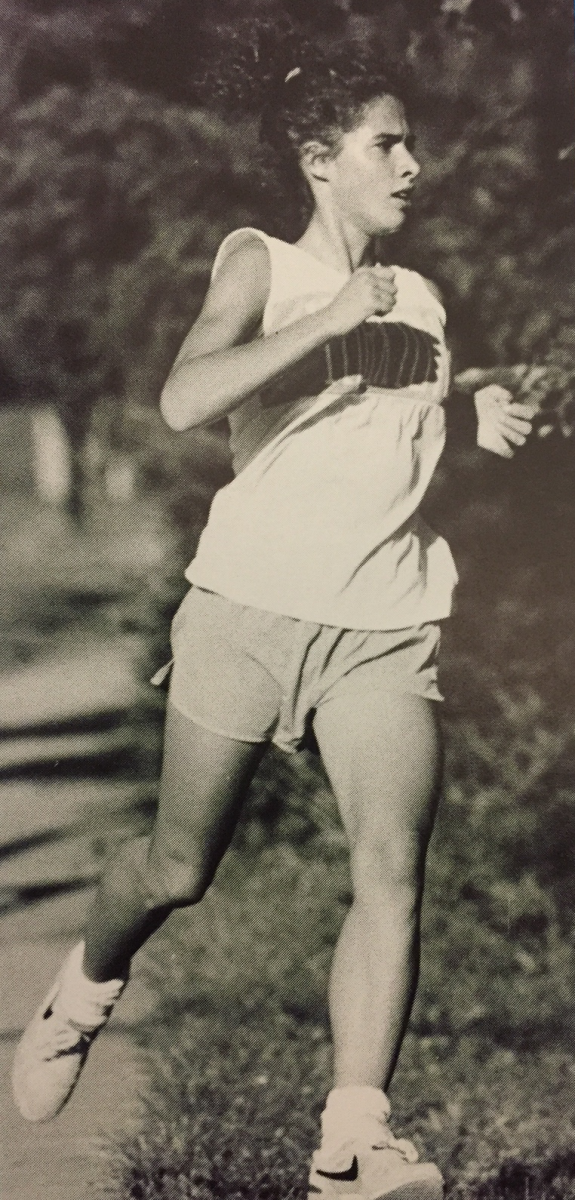 Cross-country star Huybrechts placed fifth in the state championship after setting a school record at Yorktown's home course in Bluemont Park. She placed first in the unseeded category of the Georgetown Prep Invitational. Huybrechts placed fourth in Northern Virginia Regional Athletic Directors meet as a senior. She was named all-Metropolitan by The Washington Post and All-State by the Journal Newspapers.
---
Tom Dolan '93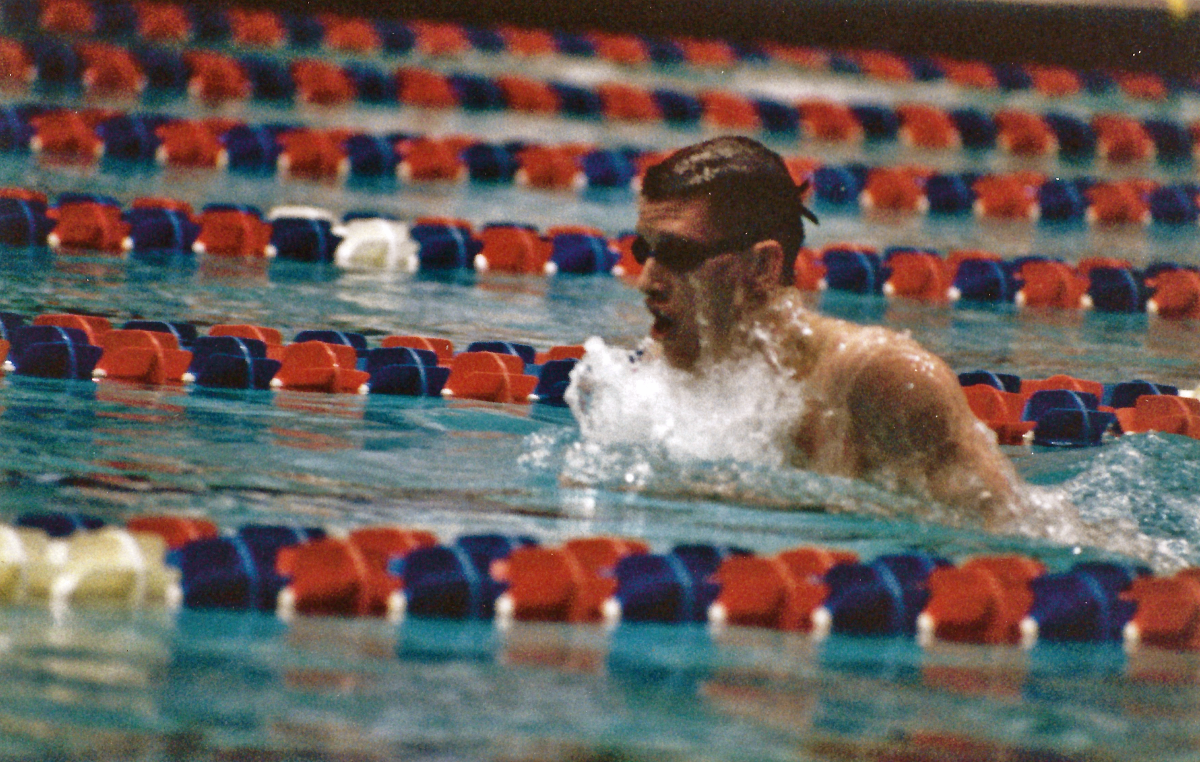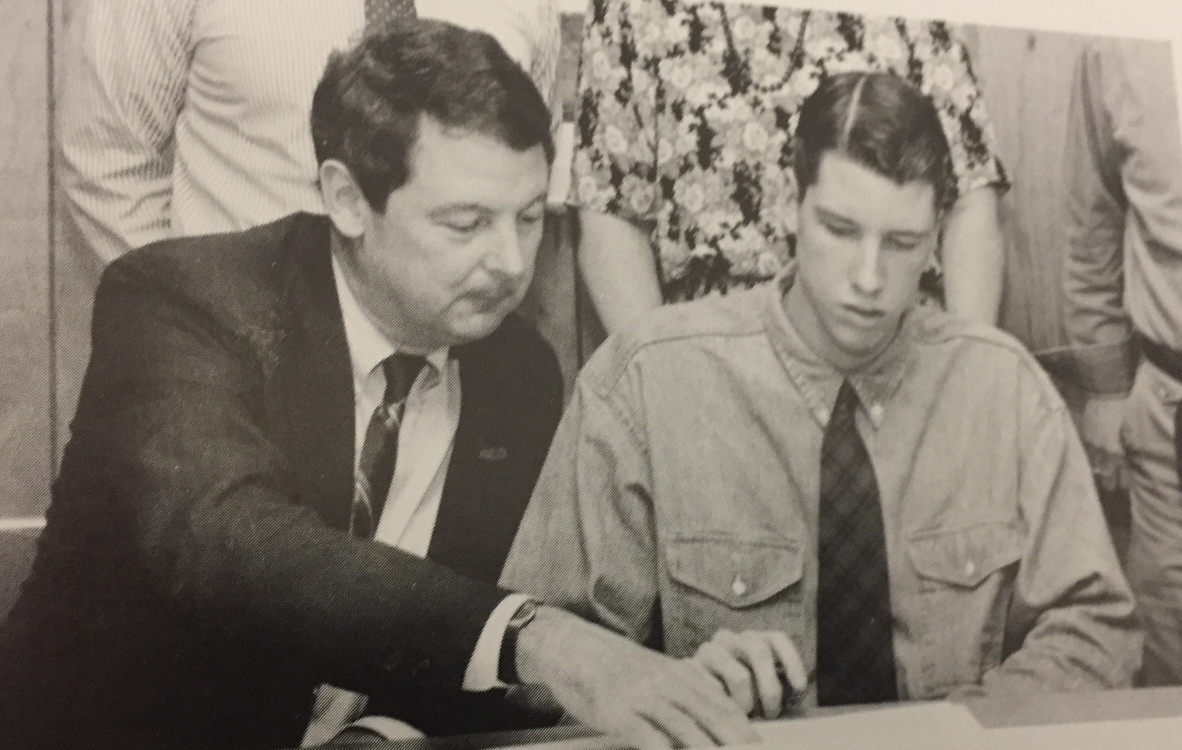 Perhaps Yorktown's best known athlete, Dolan became a world-famous Olympic swimmer (made the cover of Sports Illustrated) who competed during high school for the Patriots and Washington Golf and Country Club. Dolan won national titles and set world records while a student the University of Michigan. He went on to win gold and a silver medals at the 1994 Olympic Games in Atlanta and in Sydney in 2000.
---
Mike Geter, '93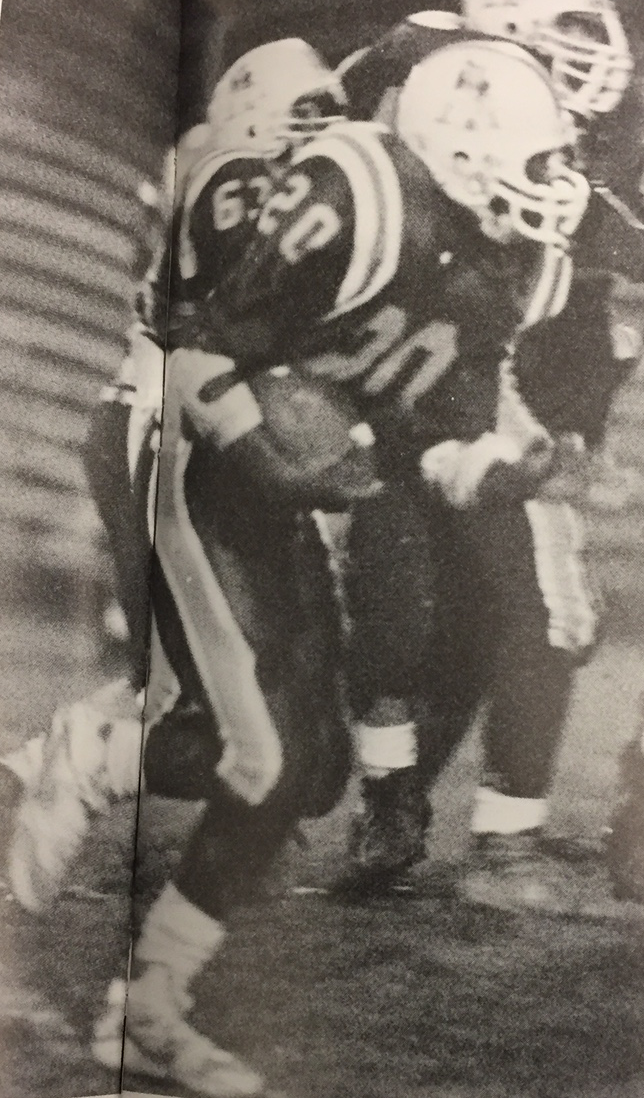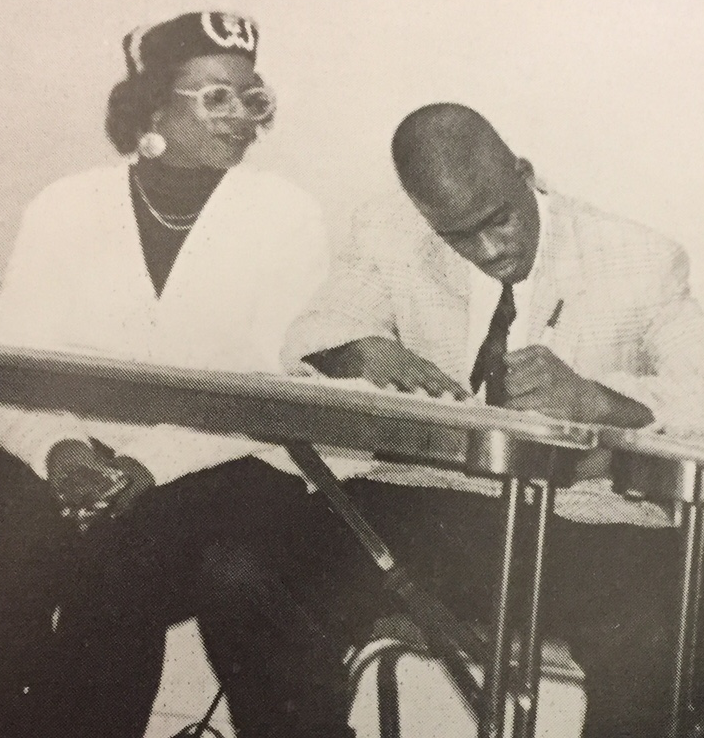 An all-region running back who also stood out in track, Geter on the gridiron in his senior year rushed for 1,642 yards and 21 touchdowns. That came after a junior year tally of 1,505 yards rushing and 14 TDs. In indoor track, he ran the 55 meter and 300 meter races, winning all-district honors as first in the region. He made the state finals. Geter went on to star as a running back at the University of North Carolina.
---
Chris Farley '94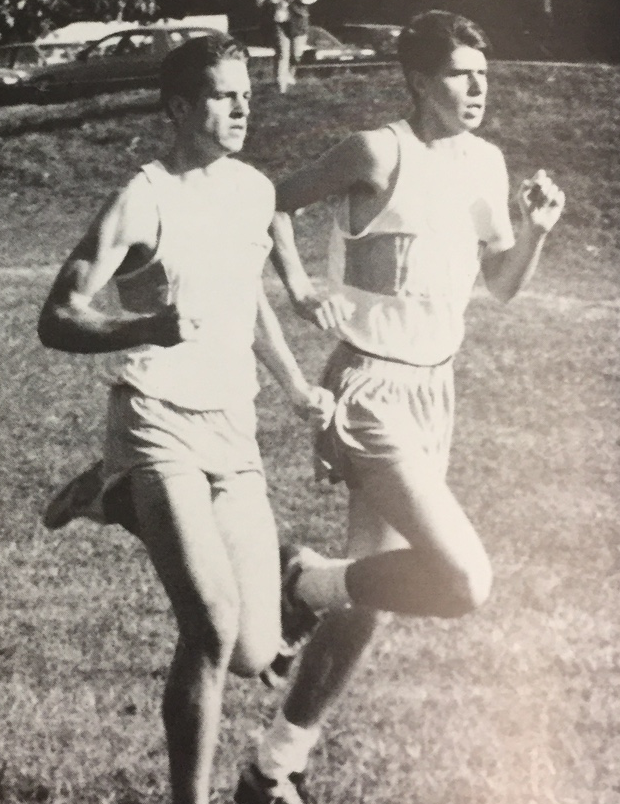 An early bloomer who made varsity cross-country as a ninth-grader, Farley (left) was the spark plug, alongside Mike Ryan and Sam Franklin, of the distance running team Coach Mark Stripe calls the school's best ever. In the fall of 1993, this cross-country elite were undefeated in the regular season's dual meets. For the third year in a row, they won the district title and came home with four trophies from major invitationals. Farley also ran indoor and outdoor track and played basketball. He went on to run at the University of Virginia, Ryan at the Naval Academy, while Franklin—an all-Metropolitan soccer player--played soccer at UVA.
---
John Crone '04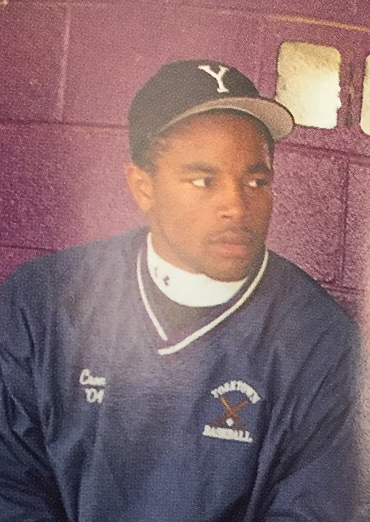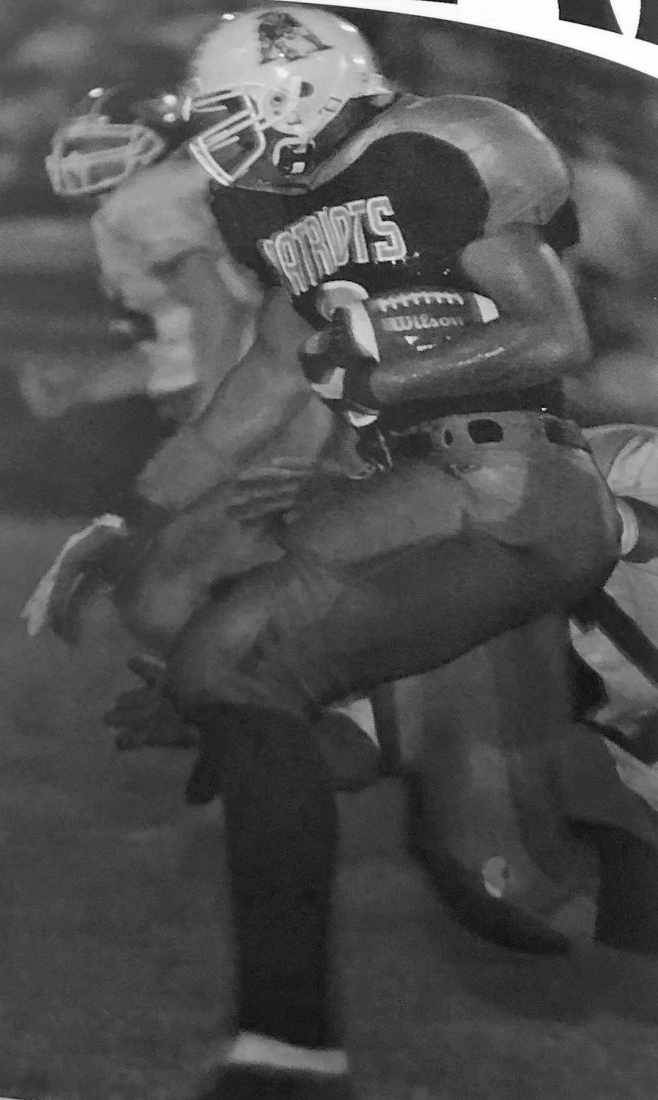 A professional-level threat in both football and baseball, Crone on the gridiron teamed up with Duane Tigney to give the Patriots what the Connection Newspapers called "one of the most potent ground attacks in region history." Opponents feared the combo nicknamed "thunder and lightning." Crone rushed for more than 1,000 yards and won defense player of the year for the region. Coach Hanson called him "probably the best leader I ever had" (right, Connection Newspapers). In baseball during his senior season, Crone hit .511 with 42 RBIs (a school record) and seven homers to earn First Team All-Region and First Team All-Metropolitan honors. He drew interest from Major League Baseball scouts, but he went with a scholarship to play football at the University of Richmond.
---
Girls Swimming and Diving 2006-07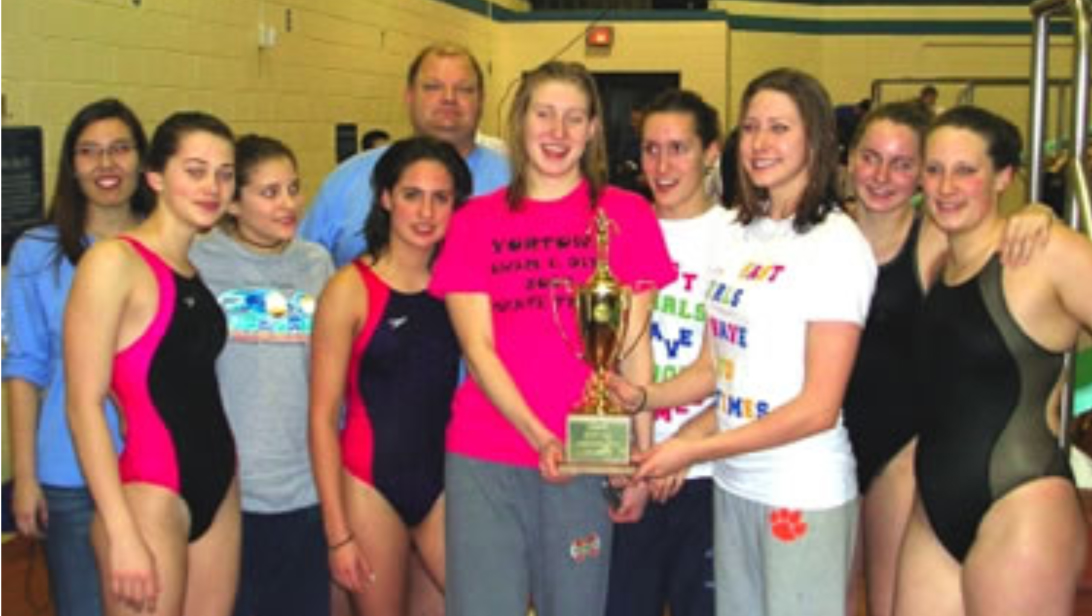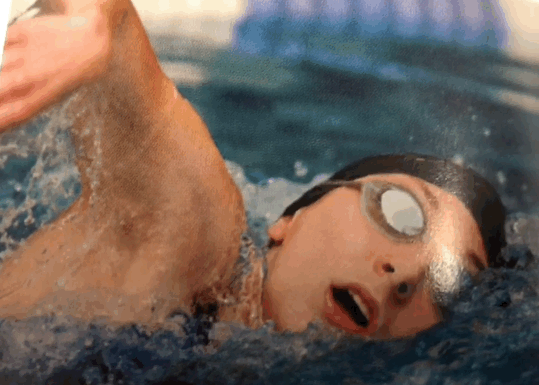 Two years in a row, Yorktown's ace swimmers and divers made tops in state, the team placing first in a squeaker at the Feb. 17-18, 2006, meet at George Mason University. The following year the team was a much clearer first place Feb. 9-10, 2007, at Virginia Beach. Individual stars included Katie Radloff ('06) (shown in action), who went on to compete at the College of William and Mary; Katy Hinkle ('07), who went on to compete at Harvard University; Thea Kromer ('07), who went on to compete at Georgia Tech; Kristen Wolla ('07), who went on to compete at James Madison University; Meg Alderman ('08), who went on to compete at Penn State University; and Maren Taylor ('09), who went on to compete at the University of Texas.
---
Max Milien '07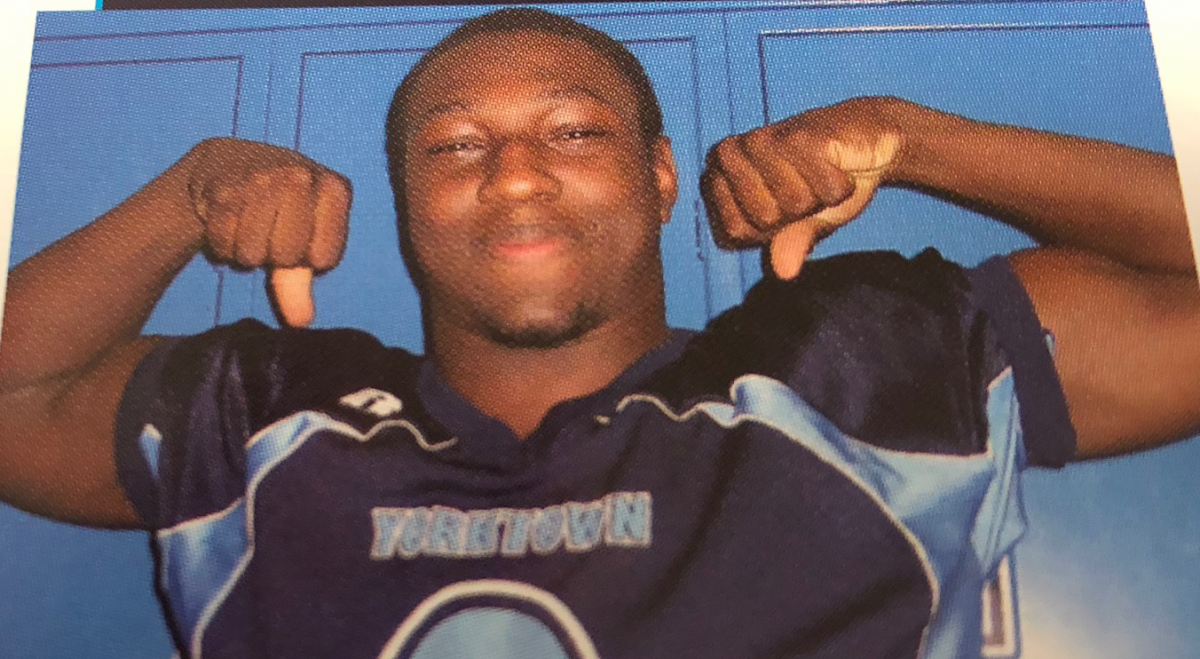 Football running back Milien earned first-team all-region honors his senior year by rushing 80 times for 696 yards and nine touchdowns—despite an injury that prompted missed games. He also caught 12 passes for 203 yards and three more touchdowns---gaining 200 yards on only 12 carries against Mount Vernon. As a junior, Milien gained 1,150 yards on 151 carries and scored 20 touchdowns, snaring 33 passes for 414 yards and nine touchdowns. As a sophomore he ran for more than 950 yards and 16 touchdowns, while averaging more than 11 yards per carry. A starter on the basketball team, Milien went on to play football for the University of Virginia.
---
Jack Earley '12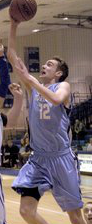 A four-year starter on the basketball team, the six-foot-four-inch Earley holds the Yorktown record of 1,211 points (playing long after the introduction of the three-point shot in 1987-88.) He also tallied 635 rebounds, 290 assists and 151 steals. He played basketball at Claremont McKenna College.
---
M.J. Stewart '14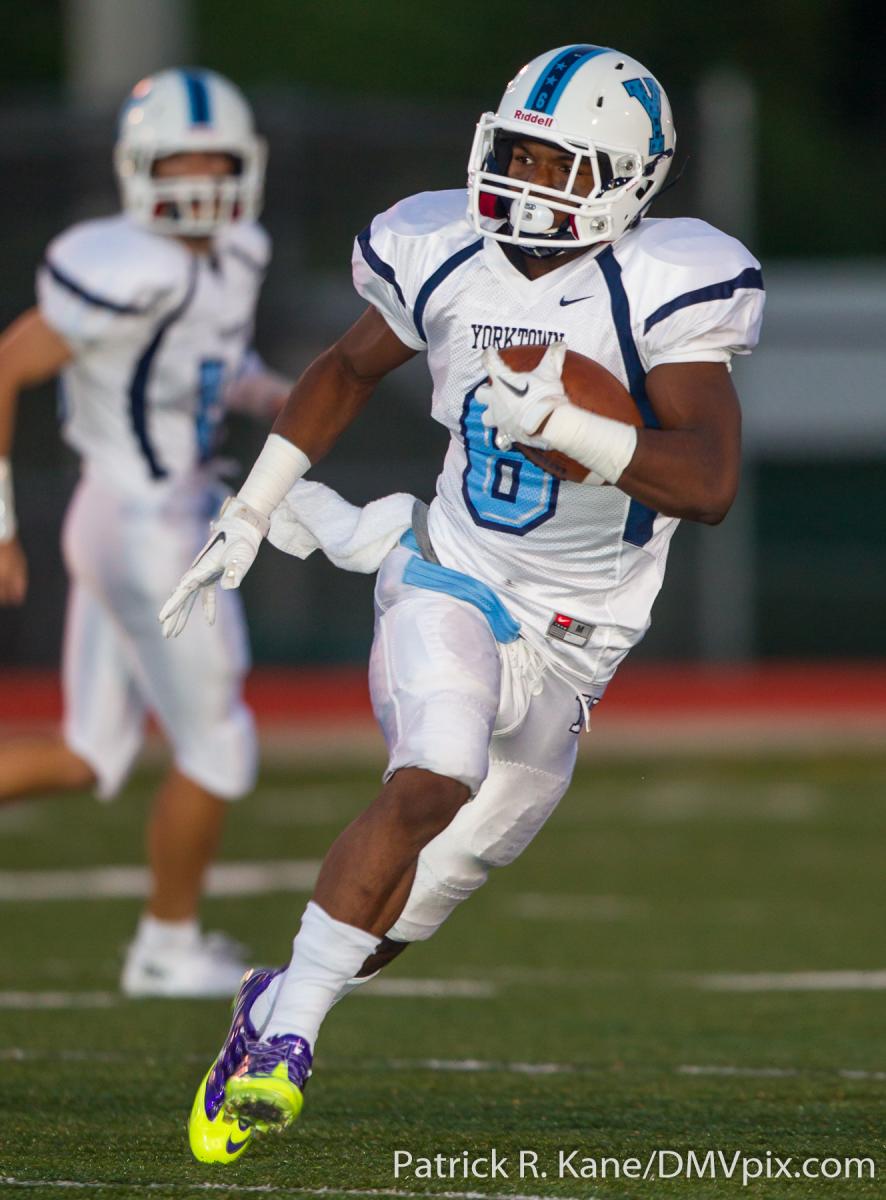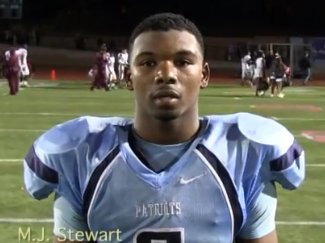 Before bidding to be Yorktown's first alum to be drafted into the National Football League (in 2018), running back Stewart in three years as a high-schooler gained 4,866 rushing yards and scored 91 offensive touchdowns. A repeat first-team All-Metropolitan and first-team All Northern Virginia region, the 5-foot-11, 188-pounder rushed for 1,596 yards and 25 touchdowns in his junior year while also playing defense. As a senior, Stewart rushed for 1,842 yards and scored 36 touchdowns to earn regional offensive player of the year. He averaged 10 yards per carry, 15 yards per reception. Heavily recruited, Stewart played defensive back at the University of North Carolina. (Action photo by Patrick Kane)
---
Kelly Hart '15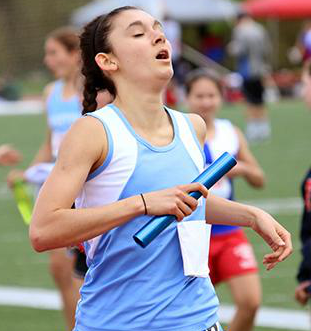 A four-year letter winner in cross country, indoor track and outdoor track, Hart broke records her junior year in the 5 kilometer, 800 meters and mile. She was named first team All-Liberty Conference and second team All-Northern region and 6A All-State in cross country and placed first at the 2014 Arlington County Cross Country Championships. She was the team's most valuable player in cross country and regional champion in the indoor 1,000 meters. In 2014, Hart placed third in the state in the indoor 1,000 meters and placed first in the 1,600 meters at the Virginia Meet of Champions. She was a two-time D.C. All-Metropolitan sports honorable mention. As a senior, Hart was conference champion in the 1,000 meters and placed third in the state in the 1,000 meters in 2015. She was named indoor and outdoor track most valuable player and named the Female Track Athlete of the Year by the Better Sports Club of Arlington. She ran track at the University of Notre Dame. (Photo by Milessplit.)
---
Girls Soccer Team 2017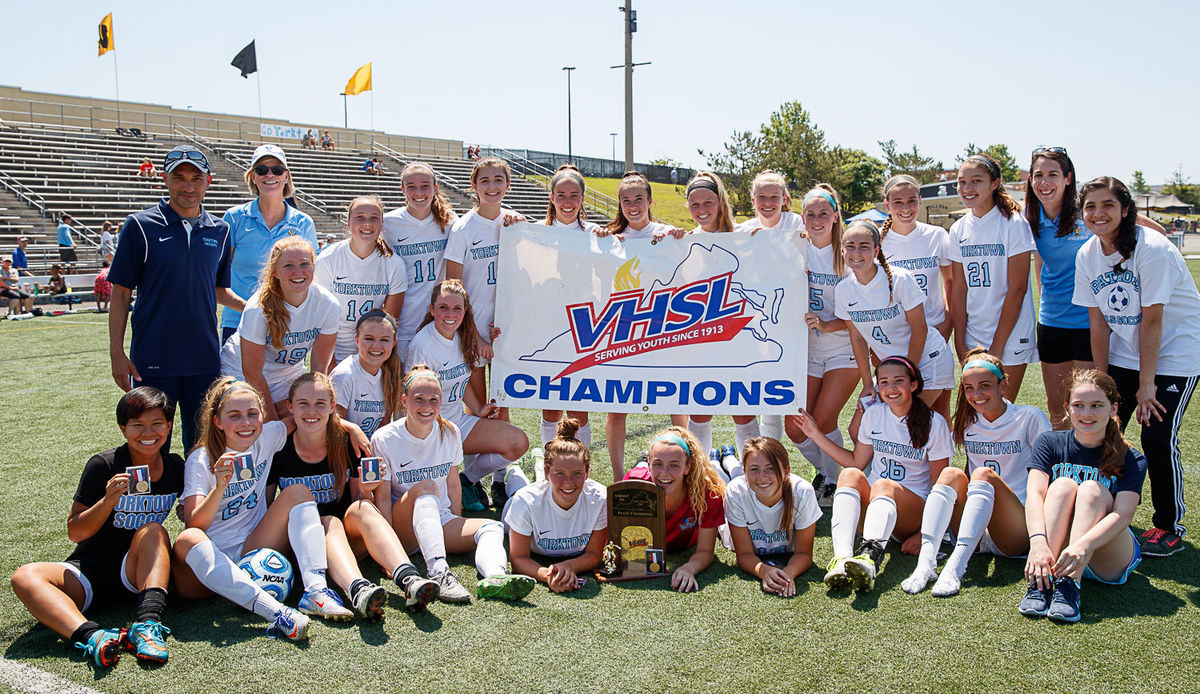 These roundballers brought a state championship to Yorktown for the first time in a decade, with a record of 17-3-2. "The identity and philosophy of the group was built on the premise of having our playing style as the star and trademark of the team," said Coach Mariano Alonso. "We don't have one player with 20 or 25 goals (like most of the other schools) but six, seven, or eight goals scored by at least six different players." Five went off to play soccer in college: senior captain Olivia Tripodi (University of Richmond), Lacey McCormack (University of Virginia), goalie Sydney Davis (Bridgewater College), Meredith Beam (College of William and Mary, and Gillian Schiffer (West Point). (Group picture courtesy of Deb Kolt)
Acknowledgments
     This tribute to hundreds of male and female athletes at Yorktown High School over the past six decades was compiled in consultation with current and former coaches and staff. They include Jim Allen, Mariano Alonso, Bruce Hanson, Jesse Meeks, Jim Price, Rich Avila, Claire Shreeve and Mark Stripe, along with activities director Mike Krulfeld. The photos were researched and text written in 2017-18 by local columnist and historian Charlie Clark, YHS '71, a Yorktown parent and active alumnus. Research help came from photographer Patrick Kane, journalism teacher Chrissy Wiedemann, parents Peggy Pickering, Jeff Wolla and Josephine Dolan, alumni Susannah Dryden, John Reeder, Charlie Dierkes and Melody Miller, along with the sports writer-editors at the Grenadier, the Sentry, the Washington Post, the Sun-Gazette (Dave Facinoli) and the Connection Newspapers. Web production by Archie Warnock, YHS '71.